RAISED FLOOR INSTALLATION
RAISED FLOOR INSTALLATION
Nation wide delivery
Quality Slate
Made to Measure
RAISED PAVING.
A raised paving is a genuine system, comprising several different parts: slab 20 mm thick + polypropylene pedestals + any additional materials (mesh or galvanised sheet metal). The raised paving system is very flexible and can be installed over any type of paving, on single or double layer waterproofing membranes or on asphalt.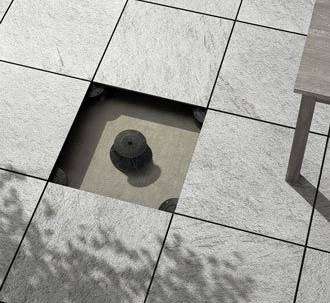 Instructions for installing raised pavings
Prepare the substrate by laying a screed with the correct gradient above the existing surface. Apply a waterproof barrier layer to prevent seepage and ensure effective rainwater drainage. Place the polypropylene pedestals straight on top of the waterproofing membrane and add the slabs, with spacers to ensure the correct joint width. For better thermal insulation/energy performance, thermal insulating panels of suitable density can be added directly between the waterproofing membrane
and the raised paving pedestals. For unprotected outdoor pavings, Marazzi Group recommends the creation of a gradient of ≥ 1.5% on the finished surface, to prevent the formation of patches of standing water. In the event that standing water persists on the surface of the tiles in spite of correct installation, it must be removed mechanically with the aid of brooms or wet-and-dry vacuum cleaners.