Welsh Slate Pillered Walling 1

Specified Welsh slate walling

Cock And Hen
Nation wide delivery
Quality Slate
Made to Measure
Welsh Slate Walling

Slate can be split, sawn and cleaved to create several unique walling products that will not only look great it will also last a life time. Available in a variety of options our Welsh slate walling will compliment every aspect of construction, from modern architecture to self-build projects.
SAWN WELSH SLATE WALLING
Random Sawn Edge Walling
Cut sawn edges with a random specificatio, a by-product of the famous Welsh roofing slate.
Ideal for cladding your self-build project or as a boundry garden wall landscaping project. Loose specification with respect to lengths and widths being random. The face has been sawn or machined finish with ends some time in a natural finish.
LENGTHS: 100MM TO 500MM
HEIGHT: 80 TO 120MM
BED WIDTH: 100MM (85MM TO 115MM)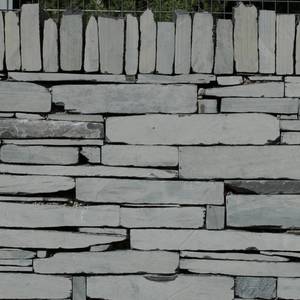 Suitability
WELSH SLATE RUSTIC WALLING SLATE
Welsh Rustic Pillared Slate
A multi-coloured walling slate, that is a by-product of the famous Welsh roofing slate and is resistant to acid, alkali and frost.
Due to its inconsistent patterning and colour tones, this slate was never really considered suitable for roofing slate during the slate boom of the 19th and early 20th Century.
But in recent years, this slate has grown in popularity with architects and designers, due to it's warm, contemporary, Mediterranean look, and is increasingly used for walling and landscaping projects.
Want to find out more about how Welsh Rustic Pillared Slate can add warmth to your project? Give our Sales Team a call on 01766 514700, or tell us about your project by using our online contact form, and we'll be in touch.
WELSH SLATE PILLARED WALLING
Welsh Dark Blue Pillared Slate
Cleaved or pillared slate walling, a by-product of the famous Welsh roofing slate, can take anything the harsh weather conditions can throw at it.
Cladding your project with Welsh slate doesn't just look great, it will also last a lifetime.
Quarried in the heart of Snowdonia, North Wales, our Walling slate has a unique natural appearance, and is popular with designers and architects for its timeless natural look. Check out our Welsh Dark Blue Pillared Slate Showcase Gallery for ideas on how this type of slate can fit a broad range of projects.
LENGTHS: 100MM TO 500MM
HEIGHT: 30MM TO 180MM