Centro Ricerche Fila Team
SEALANT , CLEANER & AFTERCARE
Category: SEALANT , CLEANER & AFTERCARE
Nation wide delivery
Quality Slate
Made to Measure
FILA DETERDEX PRO
END OF WORK CLEANING
Deterdex is a strong acid cleaner for cleaning your newly installed floor, post sealing. Removes all grout residues and building-site dirt, all in one detergent and descaler.
WHAT IT'S FOR:
Detergent for end-of-installation washing
Removes post-application deposits and building-site dirt.
Eliminates saline efflorescences from terracotta.
Eliminates lime-scale from floors, showers, bathroom fittings.
Thoroughly cleans outdoor floors.
It removes deposits and cleans at the same time because it also contains surfactants.
Effective against rust stains.
It helps to remove signs of engobing on ceramic and porcelain tiles surfaces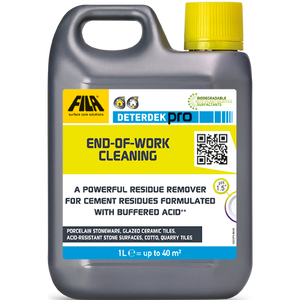 Suitability
Wet Access

Walls

Bathrooms

Outdoor

Indoor

Floors
FILA STONE PLUS
STONEPLUS
Fila stone plus is a colour enhancer and stain protector in one. Protects and enhances stone and slate penetrates deep into the material to prevent stains from water and oily substances.
WHAT IT'S FOR:

Protects and enhances the original colour of polished, honed, rough and tumbled natural stone.
Penetrates deeply into the material, protecting it from water and oily stains and dirt.
Ideal for windowsills, tops, rosettes, inset decorations.
Perfect for interior and exterior surfaces.