Welsh Slate Sills

MONT BLACK SLATE WINDOWSILLS

Welsh Slate Window Sill Banner
Nation wide delivery
Quality Slate
Made to Measure
Window sills
Manufactured from the finest slate our window sill range have everything to offer from our premium product to our budget cost effective option. On this page, you find our standard sizes if you wish to receive a made to measure quotation, then please see our bespoke section of our web site.
Tilemaster adhesives and grouts are available including Fila sealant and cleaners. 

Welsh Slate Fine Rubbed Slate Sills
Precision made slate sills
Welsh Slate window sills are available in a fine rubbed smooth finish manufactured in a 30mm thickness.
Our standard sizes are found on this page manufactured and ready for delivery. Quarried in the heart of Snowdonia, our dark blue-grey slate has a fine rubbed smooth finish. Sills made from our slate will not only look great, they will also last a lifetime.
Other sizes are available on request please contact our sales team for more information 01766 514700
MONT BLACK SLATE WINDOWSILLS
CRISP AND SMOOTH SLATE WINDOWSILLS
Mont black fine rubbed window sills made from the finest imported slate, a premium product manufactured with Precision. 

Premium imported slate, imported for its quality and durability. Mont black slate range has a unique polished look without the sheen. Durable and strong this material will compliment all modern designs from stone clad to white rendered walls.
*We also offer a cut to size service please vist our BESPOKE SECTION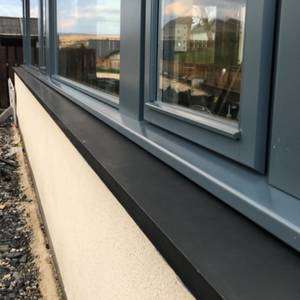 Suitability
Walls

Bathrooms

Outdoor

Indoor

Floors
CLEFT BLACK WINDOW SILLS
SLATE CLEFT/RIVEN WINDOW SILLS
Cleft window sills have a slight textured surface, flat and consistent and still retains the natural look popular for its price and quality.

With a good selection of standard sizes available two widths to suit both rendered and cladded wall construction. The windowsills will have a fine rubbed polished edge and will also be bevelled this means the al sharp exposed edges will be taken off the front long edge. We also have an option to add a drip groove channel to the underside of each windowsill, this will be charged extra.
*We also offer a cut to size service please vist our BESPOKE SECTION