Porcel Flexible Tile Adhesive
Porcel Flexible Tile Adhesive
Nation wide delivery
Quality Slate
Made to Measure
Porcel Flexible Tile Adhesive
Delivery: 3 - 4 Working days
Sovereign Porcel-Flex Rapid has been specially formulated for the rapid fixing of floor and wall tiles both internally and externally. With built-in flexibility, an adhesion promoter is it ideal for fixing direct to timber floors and for areas that may be subject to vibration.
Suitable for the use in conjunction with under floor heating. It's rapid setting formula allows for light foot traffic after 2-3 hours. Conforms to the requirements of BS EN 12004 Type C2 FT S1
Form Supplied: Dry powder
Pack Sizes: 20kg
Colour: Grey
Coverage Rate: Fixes approximately 5 – 9 m² per bag depending on trowel used.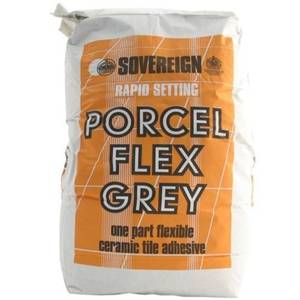 Area Calculator Advice
Length (M)
X
Width (M)
=
Area Required (M2)