Nation wide delivery
Quality Slate
Made to Measure
Fila W68 Clear Sealer
Fila W68 seals and protects porous material as rough-finish natural stone and slate, does not alter the appearance and drastically reduces absorption. Suitable for internal and external.
WHAT IT'S FOR: 
• Seals and protects porous materials such as rough-finish natural stone, terracotta and cement from oily dirt.
 • Drastically reduces absorption of the surface without altering its appearance.
• Suitable for interior and exterior surfaces.
• For use on interior floors as a protective base coat before the application of wax.
ADVANTAGES:
• Natural effect: does not alter the surface appearance
• Water-based: it is environmentally friendly and requires a shorter treatment time as it can be applied to surfaces still not completely dry.
 • No film forming.
• Does not alter terracotta frost resistance Tested by the Bologna Ceramic Center.
Information
BASED ON 1 LITRE

Terracotta rustic Tuscan, polished 15/20 m² Terracotta handmade, Spanish, hollow tile, brick 7/10 m²
Natural Stone 10/20 m²,  Natural Slate 30/40 m².
"Coverage shown is for guidance purposes only and refers to single coats"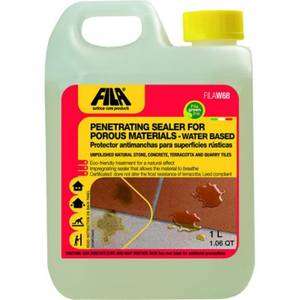 Area Calculator Advice
Length (M)
X
Width (M)
=
Area Required (M2)