Fila Stone Plus Colour Enhancer & Stain Protector
Fila Stone Plus Colour Enhancer & Stain Protector
Nation wide delivery
Quality Slate
Made to Measure
Fila Stone Plus Colour Enhancer & Stain Protector
Fila stone plus is a colour enhancer and stain protector in one. Protects and enhances stone and slate penetrates deep into the material to prevent stains from water and oily substances.
WHAT IT'S FOR:

Protects and enhances the original colour of polished, honed, rough and tumbled natural stone.
Penetrates deeply into the material, protecting it from water and oily stains and dirt.
Ideal for windowsills, tops, rosettes, inset decorations.
Perfect for interior and exterior surfaces.
COVERAGE:
Polished stone 30/50 m2
Unpolished stone 15/25 m2.
INFORMATION
Intensifies colour whatever the surface finish.
For interior and exterior surfaces.
Non-yellowing, UV resistant, provides long-lasting protection.
Very high coverage rates.
Eliminates weaknesses in granite.
No film forming.
Certified as suitable for use on food contact surfaces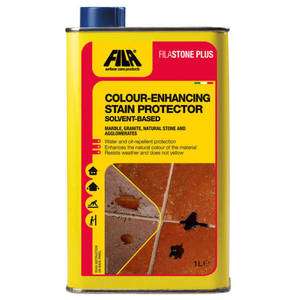 Edge Options
Available edge options can be found below
Available sizes
Standard sizes can be found below, if you would like to receive a quotation on a bespoke size or shape, then please contact our sales office 01766 514700
Fila Stone Plus Colour Enhancer & Stain Protector (Single Pieces)

Enquire

For orders of more than 5 crates, please contact us.
Area Calculator Advice
Length (M)
X
Width (M)
=
Area Required (M2)