Category: Sealant and Cleaners
Nation wide delivery
Quality Slate
Made to Measure
Fila sealants and cleaners to maintain our slate and stone products
Fila Deterdex Acid Detergent
Deterdex is a strong acid cleaner for cleaning your newly installed floor, post sealing. Removes all grout residues and building-site dirt. All in one detergent and descaler that also removes rust stains.
WHAT IT'S FOR:
• Removes all grout residues and building-site dirt.
• Eliminates any saline efflorescences from terracotta.
• Removes lime deposits from floors, wall tiles (showers), and bathroom fixtures
• Penetrating cleaner for outdoor paving.
• All-in-one descaler and detergent: contains high concentrations of surfactants
• Removes rust stains.
COVERAGE:
Terracotta 1:5. 10/20 m2 Porcelain tiles 1:5. 40 m2 Natural stone 1:5-1:10 20/35 m2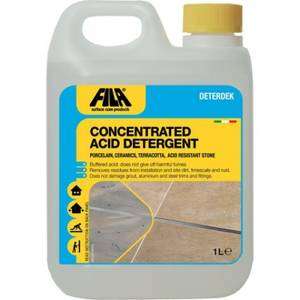 Fila W68 Clear Sealer
Fila W68 seals and protects porous material as rough-finish natural stone and cement. It does not alter the appearance and drastically reduces absorption. Suitable for internal and external.
WHAT IT'S FOR: 
• Seals and protects porous materials such as rough-finish natural stone, terracotta and cement from oily dirt.
 • Drastically reduces absorption of the surface without altering its appearance.
• Suitable for interior and exterior surfaces.
• For use on interior floors as a protective base coat before the application of wax.
ADVANTAGES:
• Natural effect: does not alter the surface appearance
• Water-based: it is environmentally friendly and requires a shorter treatment time as it can be applied to surfaces still not completely dry.
• No film forming.
• Does not alter terracotta frost resistance - Tested by the Bologna Ceramic Center.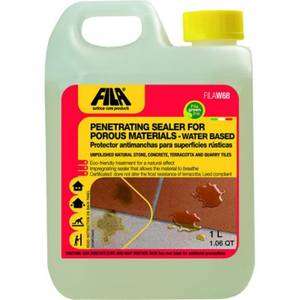 Fila Stone Plus Colour Enhancer & Stain Protector
Fila stone plus is a colour enhancer and stain protector in one. Protects and enhances stone and slate penetrates deep into the material to prevent stains from water and oily substances.
WHAT IT'S FOR:

Protects and enhances the original colour of polished, honed, rough and tumbled natural stone.
Penetrates deeply into the material, protecting it from water and oily stains and dirt.
Ideal for windowsills, tops, rosettes, inset decorations.
Perfect for interior and exterior surfaces.
COVERAGE:
Polished stone 30/50 m2
Unpolished stone 15/25 m2.
INFORMATION
Intensifies colour whatever the surface finish.
For interior and exterior surfaces.
Non-yellowing, UV resistant, provides long-lasting protection.
Very high coverage rates.
Eliminates weaknesses in granite.
No film forming.
Certified as suitable for use on food contact surfaces